» Great Pilgrimage 90 Parade - 08/08/2018
In the biggest membership event in its history, The Royal British Legion is recreating its 1928 pilgrimage to World War One battlefields.
A decade after the end of WW1, veterans and war widows visited the battlefields of the Somme and Ypres before marching to the Menin Gate in Ypres on 8 August 1928.
Exactly 90 years later, thousands of Legion members will recreate The 1928 Great Pilgrimage to visit the same battlefields and then, on 8 August 2018, carry their standards along the same route to the Menin Gate, to commemorate the last 100 days of WW1 and represent an entire generation that served while defending their country.
A special Last Post will be organized on 08/08/2018 at 12.00 o'clock. More information soon to follow.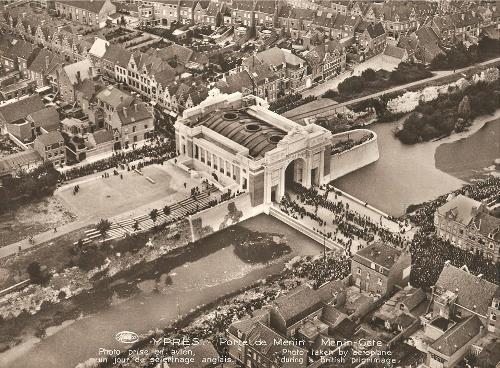 In de grootste ledenmanifestie uit haar geschiedenis, zal de Royal British Legion de pelgrimstocht uit 1928 naar de slagvelden van de Eerste Wereldoorlog opnieuw organiseren.
Tien jaar na de oorlog, op 8 augustus 1928, bezochten veteranen en oorlogsweduwen de slagvelden van de Somme en Ieper om tot slot een parade te houden aan de Menenpoort.
Exact 90 jaar later, op 8 augustus 2018, zullen duizenden leden van de British Legion de pelgrimstocht van 1928 opnieuw uitvoeren en dezelfde slagvelden bezoeken. Ze zullen met hun vlaggen dezelfde parade houden richting Menenpoort om de laatste 100 dagen van de Eerste Wereldoorlog te herdenken. Ze zullen hiermee een volledige generatie herdenken die hun land hebben gediend tijdens de oorlog.
Een speciale Last Post zal georganiseerd worden op 08/08/2018 om 12.00 uur. Meer informatie volgt binnenkort.